WagerWeb Sportsbook Review
WagerWeb offers an astounding array of sports to choose from, including everything from NFL football to WTA Tennis. The sportsbook also offers many different wager types that one would expect out of a high caliber online gambling site, including straight bets, reverses, props, teasers, parlays, props, and much more. Wage limits vary from sport to sport, from as low as $250 for in-game lines to up to $5,000 on various point spreads.

As far as sportsbook perks go, what makes WagerWeb unique from other online gambling sites is a comprehensive rewards programs that is offered to all players. Once one signs up with an account at WagerWeb they are automatically entered into the program, which is a points based system based on how much money one has wagered no matter what the event is. One can either trade in the points for a cash bonus or for merchandise such as a Sony Video Camera or iPad. There are various point levels that one can enter into, with rewards including multiple free payouts, more points for more money wagered, higher rebated on Racebook, and much more.

WagerWeb has been in existence since 1994 and is both licensed and operated out of San Jose, Puerto Rico. The company currently accepts U.S. players, and offers four different methods to deposit funds: credit card, Western Union, MoneyGram, and Skrill, with Skrill being the only one not being available to U.S. players. The minimum deposit for both credit cards (Visa and American Express) and Western Union is $25, while MoneyGram requires a $50 minimum deposit. What is great for most sports bettors about the first three methods of payment is that WagerWeb offers cash bonuses for just for depositing funds. Deposit by credit card can net one up to 50% in bonuses up to $500, while Western Union and MoneyGram offer up to 100% in bonuses up to $1,000.

UPDATE: As of April, 2013 WagerWeb has taken in all of the players who were left hanging due to the closing of Legends Sportsbook. In a press release, WagerWeb stated that they are taking over all of Legends accounts to maintain the integrity of online betting as a whole. While some players are disgruntled over the rollover stipulations that WagerWeb has attached to the Legends accounts' bankrolls, if it weren't for WagerWeb, these players would have lost all of their money.
---
WagerWeb Promo Code & Payout Information
Notice how in the paragraph above we said "for most sports bettors"? That is because that is the bonus offer you would be getting if you weren't reading this WagerWeb review. However, since you are currently visiting the fabulous Betting411.com, it is your lucky day indeed! We have an exclusive WagerWeb Promo Code (AF6601) to offer, that gets all of our visitors a massive 200% WagerWeb bonus, up to $2,000! You simply will not ever find a better sportsbook bonus at a reputable online bookmaker. To use this WagerWeb Promo Code, simply click through one of the links on this page, and make sure to enter the code "AF6601" into the box on the sign-up page that says "Promo Code."

As far as cashing out is concerned, WagerWeb offers three distinct methods, including cashier's check, Western Union, and MoneyGram; all three have fees and limits that must be mentioned however. Cashier's checks can only be requested once every seven days, with a minimum amount of $1,000 and a maximum amount of $3,000, with a $65 fee attached to each transaction. Western Union offers a maximum withdrawal of $1,000 per day with fees ranging from $50 to $80 depending on the amount withdrawn. Lastly, MoneyGram offers a maximum withdrawal of $840 per day with fees in a similar range to Western Union.

---
WagerWeb Casino Review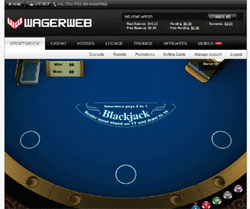 WagerWeb Casino
WagerWeb's Casino offers more than 35 of the most popular casino games on the internet today, including slots, video poker, arcade games, along with numerous table games such as blackjack, American roulette, craps, and Caribbean stud to name a few. Aside from the rewards program mentioned earlier, WagerWeb also offers a referral bonus of up to 25%. WagerWeb currently does not offer live dealer action but does offer something unique in the form of a mobile version that one can get for their iPhone or Android powered devices.
Video Poker
Four different poker games are offered at WagerWeb, including: casino holdem (a modified version of Texas Holdem), three card poker, Pai Gow poker, and Caribbean Stud. Pai Gow is also known as double-hand poker, in which one is trying to create two poker hands out of seven cards, with one hand comprised of five cards and the other comprised of only two. Caribbean Stud is basically the same as five card poker with the main caveat being that one is playing against the house and not against other players.
WagerWeb Bonus
Use the
WagerWeb Promo Code AF6601
at their casino to get a massive 200% welcome bonus up to $2,000! This promotional code will double the regular offer from WagerWeb, and is currently the absolute best betting bonus being offered from any reputable online betting site.
Click Here And Use The WagerWeb Promo Code AF6601 To Get A Full 200% Welcome Bonus Up To $2,000!
Cons
The only real downside to WagerWeb comes in regards to their payment area. Compared to other top online gambling sites, WagerWeb ranks below average in the amount of methods that it offers for both depositing funds and withdrawing them as well, and the fees for withdrawing funds are a bit high as well. However, if one is willing to look past this they will find a user-friendly site with great customer service and a solid reputation for being fair and paying on time. The rewards program that WagerWeb offers is great for those who place wagers on a regular basis and are looking for a way to get more bang for their buck even if they don't win all of the time.
---